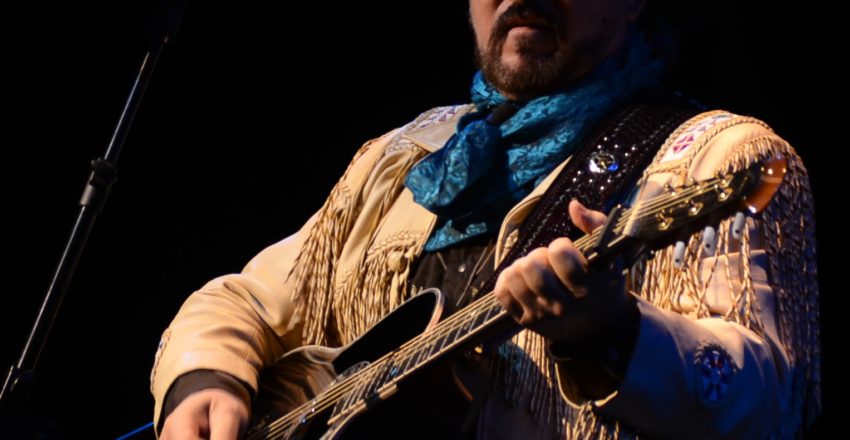 Royal Wade Kimes known as the Gentleman Outlaw delivers spellbinding solo shows. His songs tell colorful magical stories, taking you on a journey from sweet wine love to dust filled streets, where you may find gunfighters facing off. His mature honey coned voice is laced with emotion as he delivers brilliantly written songs. This kind of talent, artists can only be born with, it cannot be produced.
In the Gentleman Outlaw's show he will perform his hits, along with the duet Royal Wade and good friend Garth Brooks recorded, "Nightbirds."
The Gentleman Outlaw has finished filming a western movie to run on Dish Network "Bittersweet," and he also wrote the soundtrack. He has let us know here at VZDS that he plans to debut two to three of the songs from that soundtrack.
What better place to have the Gentleman Outlaw Royal Wade Kimes, a true all around cowboy to perform riveting Cowboy Country Music than Oklahoma City!
How Royal Wade Kimes got his handle "The Gentleman Outlaw." True West Magazine did a story on Kimes telling how he took on the establishment of Nashville Music Row by himself and won. Because of that, the late and legendary James Arness of the television series "Gunsmoke," wrote Royal Wade a letter congratulating him on beating the system. Between that letter and True West Magazine's story of Kimes and his outlaw way, fans and industry began calling him the Gentleman Outlaw.
Doors at 6:30
Show at 7:30
Tickets are $25 online
$30 at door
<iframe width="560" height="315" src="https://www.youtube.com/embed/Kz5GLoX-fCU" frameborder="0" allow="autoplay; encrypted-media" allowfullscreen></iframe>