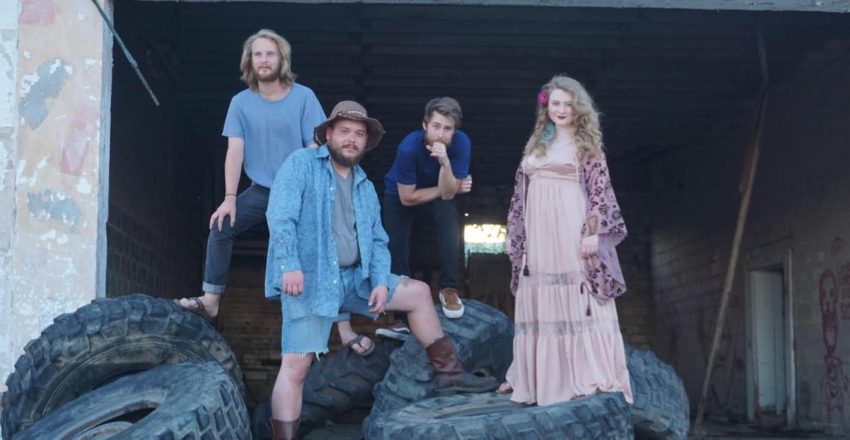 April 28th!! The Indigos are back at VZD's playing with Felina and The Feels. Doors at 8pm and show kicks off at 9pm. Tickets are available online for $5. Tickets at the door are $10.
The Indigos aren't your typical run of the mill singer song writer/indie band. Their music is pure and tender, with a genuine vibe that appeals to audiences of
all ages. The Indigos originally consisted of Amber Amanda (20-lead vocals/guitarist) and Carson May (22-lead guitarist). They set out in early 2013 as an acoustic duo. The following summer they recorded a three song EP and set out on the road for a small acoustic tour, playing shows in Arizona and California. When they returned, The Indigos started recording their first album and music video for, "The Other Side", which was released in May 2014. In late 2014, the duo met Jimmy Jackson (20-drums) and John Stendel (20-bass) and became a full set band. After some time The Indigos parted ways with Jimmy and John, leaving them back as an acoustic duo consisting of Carson and Amber. Some time passed until Spring of 2016, when The Indigos hired on 2 new members, Michael Fabri (22-Drums/Percussion) and Gabe Oglesby (24-Rhythm Guitar). The now 4-piece band, after playing a few shows, realized something was missing. So, soon after they hired on Josh West (24-Bass Guitar) making The Indigos a 5-piece group with a more indie/pop type of sound in their music. Since then, the band has parted ways with rhythm guitar player Gabe Oglesby, and now tears up the local scene in the OKC Metro area as a 4-piece Indie-Pop band with a little bit of funk in the mix.
<iframe width="560" height="315" src="https://www.youtube.com/embed/scH861ZG__Y" frameborder="0" allow="autoplay; encrypted-media" allowfullscreen></iframe>