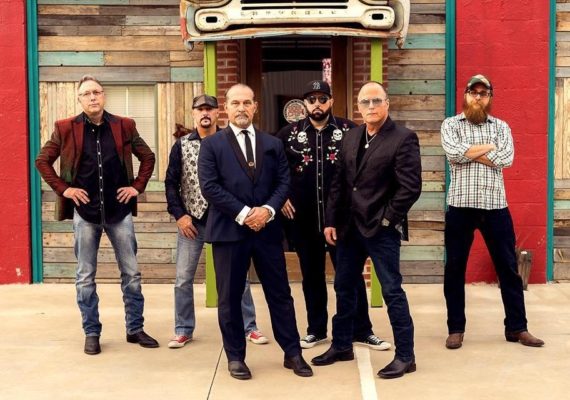 01

Jun
Just back from a rousing performance at Austin's SXSW, Joyride is a critically acclaimed Blues/Rock band that cover some familiar party music as well as lead singer Steve Antry's internationally charting rockin' blues, characterized by strong guitars and keyboard and Antry's three-octave vocal range. ANTRY's debut album met with critical acclaim around the world and stayed on the International Blues/Rock charts (Roots Music Report) for over nine months (reaching #1 in Oklahoma and #7 Worldwide). His band, Joyride, made it to Memphis in January to compete against the best blues bands in the world, having been victorious at the Cain's Ballroom Blues Challenge. Antry's album "mixes some beautiful gospel and country flavors in with some very cool blues rock," says Professor Johnny P. of Professor Johnny P's Juke Joint. On the album cover says the professor "I saw the grizzled visage of Steve Antry looking back at me with the defiant look of an old-time preacher getting ready to wrestle the devil to the ground." Joyride's old soul is making new waves in the blues!
Details
17Jun
LA based blues/rock guitarist/singer Josh Smith Was Hired By American Idol Winner Taylor Hicks To Be His Lead Guitarist. They Completed Two National Tours With Monthly Dates And Charity Events Until Taylor Started Grease! On Broadway. Josh Was Then Hired By Raphael Saadiq. Since That Time, Josh Has Played Such High Profile Gigs With Raphael As Backing Mick Jagger At The Grammy Awards And The Kennedy Center Honors. Josh often shares the stage with Joe Bonamassa. He constantly tours and plays dates around the world. He is a high profile and in demand session guitarist in Los Angeles, playing on
Shane Henry's stunning new album, Light in the Dark, produced in part by David Ryan Harris (John Mayer, Dave Matthews, Santana) and Justin Glasco (The Lone Bellow), was released in 2017. Over the course of its eleven songs, it seals the divide between blues and pop, resulting in a sound that boasts elements of both, while also retaining a freshness, spontaneity, and yes, an instantly infectious and accessible sound that expands his boundaries as both a songwriter and a musician. It brings his career to new heights, the accrued accomplishment derived from a fifteen year journey that spans six previous independent releases -- a steady diet of touring and solo performances, and continuing praise from his peers.
Guitar Clinic w/ Josh Smith 5:30-7 PM
$15 in advance (show only)
$20 day of show (show only)
$25 in advance (show + clinic)
$30 day of show (show + clinic)
Details